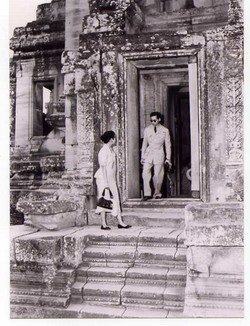 The Phimai historical park protects one of the most important Khmer temples of Thailand. It is located in the town of Phimai, Nakhon Ratchasima province.
The temple marks one end of the Ancient Khmer Highway from Angkor. As the enclosed area of 1020x580m is comparable with that of Angkor Wat, Phimai must have been an important city in the Khmer empire. Most buildings are from the late 11th to the late 12th century, built in the Baphuon, Bayon and Angkor Wat style. However, even though the Khmer at that time were Hindu, the temple was built as a Buddhist temple, as Buddhism in the Khorat area dated back to the 7th century. Inscriptions name the site Vimayapura (which means city of Vimaya), which developed into the Thai name Phimai.
The first inventory of the ruins was done in 1901 by the French geographer Etienne Aymonier. They were put under governmental protection by announcement in the Government Gazette, Volume 53, section 34, from September 27, 1936. Most of the restorations were done from 1964 to 1969 as a joint Thai-French project. The historical park, now managed by the Fine Arts Department, was officially opened by Princess Maha Chakri Sirindhorn on April 12, 1989.
In the aftermath of the fall of the Ayutthaya Kingdom in 1767, attempts were made to set up five separate states, with Prince Teppipit, a son of king Boromakot, attempting to establish Phimai as one, holding sway over eastern provinces including Nakhon Ratchasima. The weakest of the five, Prince Teppipit was the first defeated and was executed in 1768. Phimai had also been an important town at the time of the Khmer. The temple Prasat Hin Phimai, located in the center of the town, was one of the major Khmer temples in ancient Thailand, connected with Angkor by an ancient Khmer Highway, and oriented so as to face Angkor as its cardinal direction. The site isnow protected as the Phimai historical park.